Lawn Care in Belle Vernon
Taking care of your lawn isn't easy, and trying to find the right fertilizer or weed killer can make things even harder. Instead of guessing what's best for your grass, trust the experts here at Custom Turf. We have over 30 years of providing the best lawn care in Belle Vernon, and we can't wait to help you!
Our lawn care service in Belle Vernon includes:
Fertilizer applications to promote new growth and color.

Pre-emergent applications to stop weeds like dandelions from growing.

Preventative grub control to protect your grass.

Custom Turf's Water Guard to promote better water absorption.

Potassium applications to prepare your lawn for winter dormancy.
Great Results with Personalized Lawn Care
The best way to get a well-maintained landscape is by listening to what your property needs! Instead of giving you a one-size-fits-all lawn care treatment, we tailor our approach based on your unique needs. That includes listening to your concerns, identifying your grass type, and looking for problem areas.
Image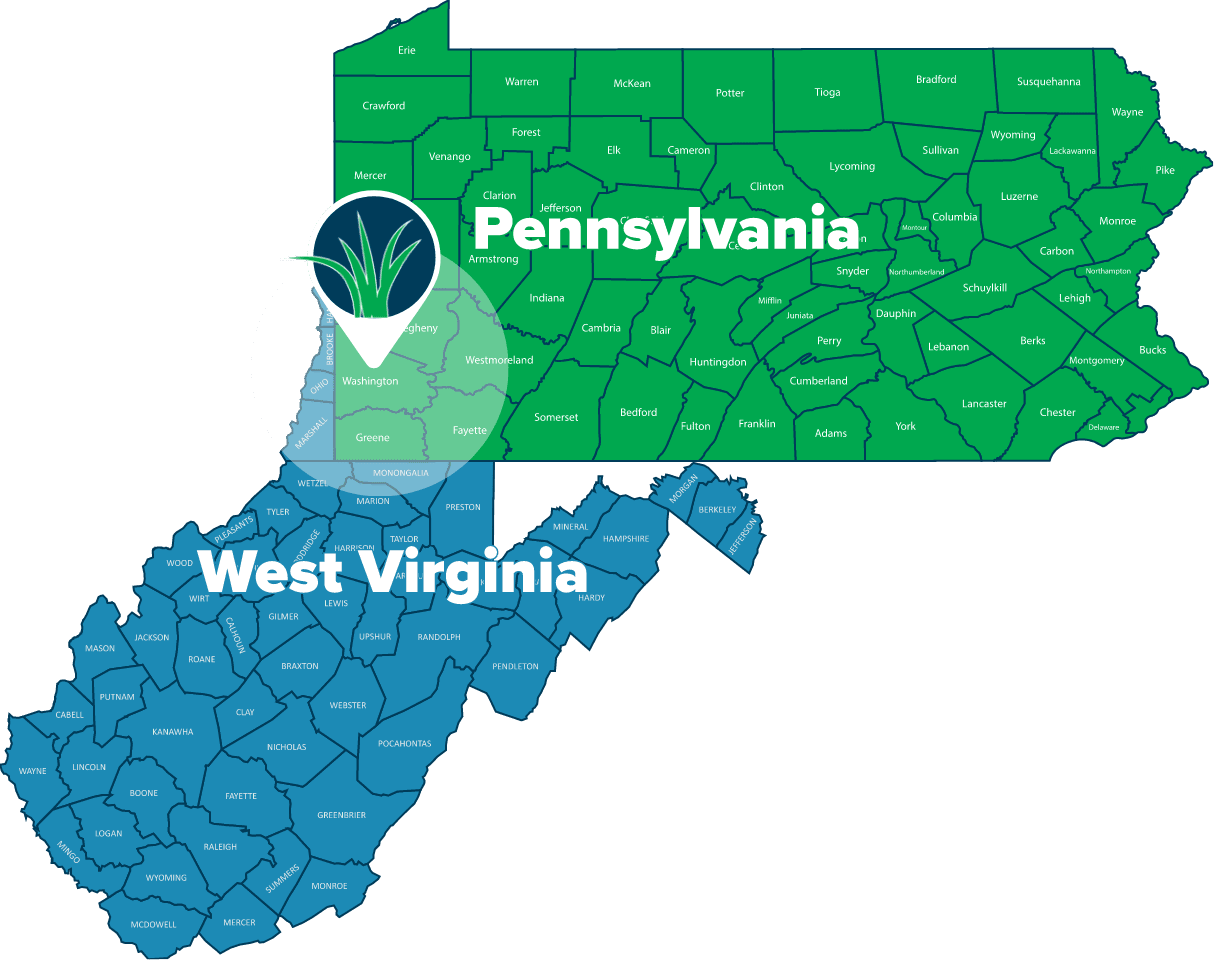 Mole Control in Belle Vernon
Moles are small mammals that live in networks of underground tunnels. They aren't dangerous to people, but they can seriously tear up your lawn. As they dig, moles destroy grassroots and leave behind trails of dead grass, mounds of soil, and holes. Because they live underground, it's tricky to treat moles on your own, but we've had decades to perfect our mole control in Belle Vernon. We use organic products to evict these unwanted critters and save your lawn!
Signs of mole activity include:
Raised ridges of dirt in your yard.

Patches or trails of dead grass.

Small raised mounds of dirt shaped like volcanoes.

Loose, squishy soil.
Tree and Shrub Care in Belle Vernon
When it comes to tree care in Belle Vernon, we prioritize addressing the challenges posed by the ever-changing climate of Pennsylvania. At Custom Turf, our tree and shrub care services in Belle Vernon are designed to protect your landscape and promote superior root growth, vibrant colors, and effective management of insects and diseases. 
Our tree and shrub care services in Belle Vernon include:
Integrated pest management
MERIT systemic insect control
Horticultural oil treatments
Fertilization injections
And more!
Perimeter Pest in Belle Vernon
If pests have made your home an uncomfortable place to be, it's time to take action and show them the way out. Our team of expert technicians possesses the skills and expertise needed to permanently eliminate pests from your home. With Custom Turf's perimeter pest control service in Belle Vernon, you can trust us to create a pest-free environment that remains that way.
Reliable and Knowledgeable Technicians
Rest assured that Custom Turf's perimeter pest control service is delivered by trustworthy technicians who utilize the latest technology and techniques to effectively eradicate bugs from your home. Our technicians undergo continuous education to stay up to date with advancements in the field, ensuring swift pest elimination and allowing you to enjoy your home in peace.
Mosquito Control in Belle Vernon
Mosquitoes aren't just annoying; they also pose a threat by carrying dangerous diseases like West Nile and Zika virus. Instead of relying on do-it-yourself treatments, entrust the well-being of your family to the professionals at Custom Turf. With our effective mosquito control service in Belle Vernon, you can establish a robust defense against these flying pests and enjoy a mosquito-free yard.
Our comprehensive mosquito control in Belle Vernon includes:
Thorough property inspection: Our experts will conduct a detailed assessment of your property to identify the extent of the mosquito infestation and locate their breeding grounds.
Application of effective treatments: We employ targeted and proven treatments to eliminate mosquitoes from your yard, ensuring immediate relief.
Recurring treatments: To provide lasting protection during the peak mosquito months, our team will schedule regular treatments, keeping your yard mosquito-free.
Protect Your Loved Ones
At Custom Turf, we prioritize the safety and comfort of your family. By utilizing our professional mosquito control services, you can create a secure environment that defends against these disease-carrying pests. Don't let mosquitoes spoil your outdoor enjoyment—contact us today and experience the benefits of our trusted mosquito control in Belle Vernon.
Aeration and Seeding in Belle Vernon
The scorching summer weather can take a toll on your yard, leaving it patchy and susceptible to diseases by the season's end. But fear not, as Custom Turf is here to help your grass not only survive but thrive through both harsh summer and winter seasons. Our specialized aeration and seeding services in Belle Vernon promote year-round lushness and strength for your lawn. 
Benefits of aeration and seeding include:
Reduction in weeds and lawn disease. 
Richer, healthier grass and soil. 
Drought-resistant and pest-resistant lawn.
Strengthened root growth. 
Thriving in extreme temperatures
The Best Customer Service
We treat our customers like family. That means you get the best customer service! We offer fast response times so you never have to wait by the phone, always go above and beyond to ensure you're happy, and use family-friendly products. There's no better option for lawn care in Belle Vernon. Contact us today to get your free estimate and see the Custom Turf difference!