Lawn Care in North Huntingdon
Since 1987, we've been providing people like you with beautiful lawns. Our lawn care in North Huntingdon handles every aspect of lawn care, so your grass is safe from diseases, insects, and pests. Our licensed and professional technicians work hard every day they're on the job, and our proactive approach to lawn care ensures that you'll be happy with how your grass looks.
Enjoy Your Weekends Again
Here at Custom Turf, we understand that you have a busy schedule. Creating and maintaining a beautiful lawn is a lot of work, and sometimes you just want to enjoy your nights and weekends rather than work on your lawn. Let us take this time-consuming chore off of your hands. 
Our lawn care in North Huntingdon includes:
Pre-emergent weed and crabgrass control so weeds aren't able to take root in your lawn.
Post-emergent weed control to kill off any weeds already growing in your yard.
Preventative grub control so grubs aren't eating the roots of your grass.
Carefully applied insect control formulas, so bugs don't infest your yard.
Winterize so your turf's roots grow deeper into the soil, and your lawn will be better equipped to handle harsh temperatures.
Expert advice on how to keep your yard beautiful all year long.
Image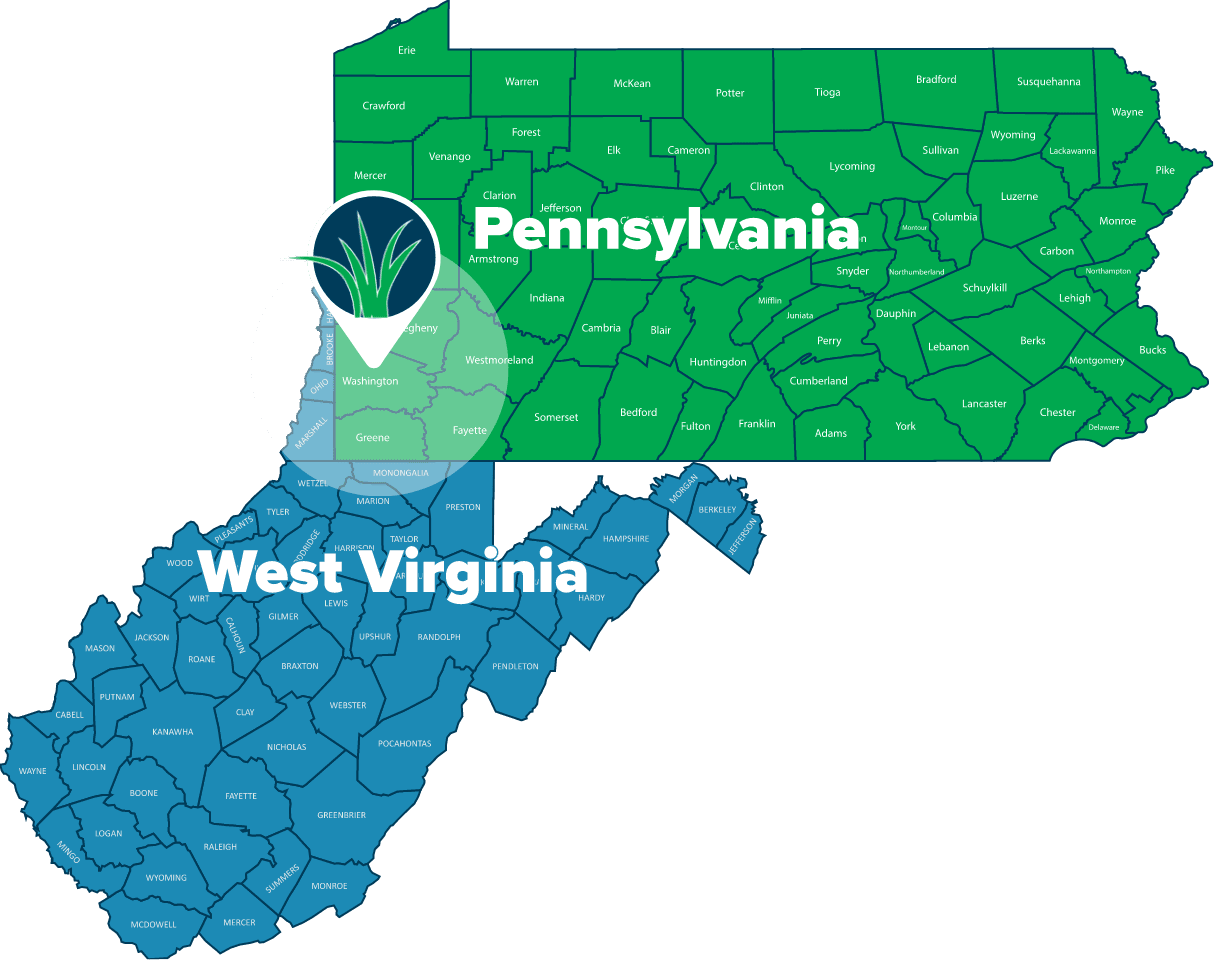 Tree Care & Shrub Care in North Huntingdon
We have a 6-step tree and shrub care program that is proven to work time and time and again for our customers. Stop worrying about your landscape, and let our qualified and trained technicians do all of the work for you. Every season requires different treatments, and that's why it's so important to let professionals handle your landscape. Applying the wrong application could be detrimental to your plants.
Our services include:
MERIT systemic insect control
Slow-release fertilizer treatment
Root zone injections
Horticultural oil treatments
Integrated pest management techniques
And more!
Perimeter Pest Control in North Huntingdon
If you want to spend your time with loved ones rather than battling pests, then you need pest control in North Huntingdon. We'll take care of the problem for you! Our reliable services will allow you to stop worrying about pests coming into your home from any direction. Not only do they disturb your family's peace of mind, but they also bring disease and allergens into your home. 
Year-Long Protection for Your Family
The only way you can rest assured that you live without pests is to have year-long protection. Our pest control in North Huntingdon will create a barrier around your home so pests won't be able to get in. Not only will we stop pests from getting inside, but our treatments will also make your property uncomfortable for them, and they'll look to live in someone else's lawn.
Our preventative measures utilize the best products in the industry because we know that your family's safety is your top priority. We protect homes from:
Spiders
Ants
Beetles
Centipedes
Roaches
Moles
And more!
Mole Control in North Huntingdon
Are you seeing your yard and flower beds all torn up? Are you finding small mounds or hills of dirt around your property? Have you noticed raised ridges in your turf? You might have a mole problem. In their search for food, moles burrow into lawns to feed on earthworms and grubs, causing damage to your landscape in the process. Moles are difficult to remove, so trust the experts. Our expert mole control in North Huntingdon will effectively eliminate your mole problem and save your lawn. 
For over 30 years, we've been providing mole control in North Huntingdon. We've drawn on our years of experience to create an effective removal process that includes:
A free, detailed inspection of your lawn to identify any signs of a mole infestation.
A customized treatment plan that meets the needs of your lawn and severity of your infestation.
Family- and pet-friendly treatments so you don't have to worry about your family enjoying your yard while we treat! 
A mole-free yard! 
Aeration in North Huntingdon
When soil becomes compacted, it becomes harder for the soil to receive important nutrients, water, and oxygen. We believe it's important to capitalize on the fall season when your lawn's grass will grow the most. Since 1987, Custom Turf has specialized in lawn aeration services in North Huntingdon, protecting and sustaining your lawn's health through even the harshest weather conditions. The aeration process removes small plugs of grass in order to promote airflow and stimulate the area to receive water and nutrients. 
When you partner with Custom Turf for aeration services in North Huntingdon, the benefits include: 
Increased absorption, bringing more nutrients, water, fertilizer, and sunlight to the soil.
Strength against weeds and lawn diseases.
Resistance against severe weather and environmental impacts, including drought, extreme temperature, and pests.
Mosquito Control in North Huntingdon
Our yards are an extension of our living space and should be "lived in" as much as any other part of the house with grilling out, games in the grass, and drinks on the patio. But when mosquitoes swarm, it can really detract from your time outside. Our mosquito treatment targets hotspots in your yard and knocks out the population so you can get back to enjoying the yard!
When you choose Custom Turf as your mosquito control company in North Huntingdon, expect:
A thorough inspection of your yard by a trained mosquito exterminator.

Potent treatments that dramatically reduce mosquitoes in your yard.

Monthly treatments that keep mosquitoes gone from June to August.

And more!
Flea and Tick Control in North Huntingdon
Your lawn serves as an extension of your living space, a playground for your family and pets. But when you find a tick or flea on one of your family members, it can make your yard seem far less appealing. That's where Custom Turf's flea and tick control comes in, treating the entirety of your lawn so you and yours can get back to enjoying it. Regain your peace of mind and get back out there with a little help from us!
Our tick and flea treatment in North Huntingdon includes:
An inspection of your yard by one of our skilled exterminators.

A tick and flea specific treatment of your lawn.

Recurring treatments for season-long relief.

And more!
Customer Service That Cares
We pride ourselves on providing the best customer service possible. Not only are our technicians friendly and experts at what they do, but our office staff is always ready to answer any question you might have. We offer quality service at competitive prices, and because you are our top priority, we take care of your lawn just like we care for our own.