Lawn Care in Bethel Park
A well-maintained yard enhances the value of your property—and looks incredible! Partner with Custom Turf, and make sure your landscape gets the specialized care it needs to flourish this season and every season. Our professional Pittsburgh lawn care technicians will keep your plants healthy and thriving throughout the year while you enjoy the results!
We take a multi-pronged approach to lawn care in Bethel Park, combining: 
Customized fertilizer blends that improve the overall health and vibrance of your lawn.
Targeted weed control to protect your grass from weeds.
Pest control for common lawn pests.
The Best Lawn Care in Bethel Park
The changing Pennsylvania climate means your lawn is constantly barraged by the elements. We target these specific issues proactively so that they don't become a problem down the line. Every 4-6 weeks, our experts will visit your home to provide seasonal weed and pest control as part of our complete lawn care program. They will also provide you with additional tips to keep your yard looking beautiful all year long.
Our lawn services also include custom-blended fertilizer applications at every visit, with high-quality products similar to what is used on golf courses. These products give your lawn the best results and are children and pet-friendly!
Image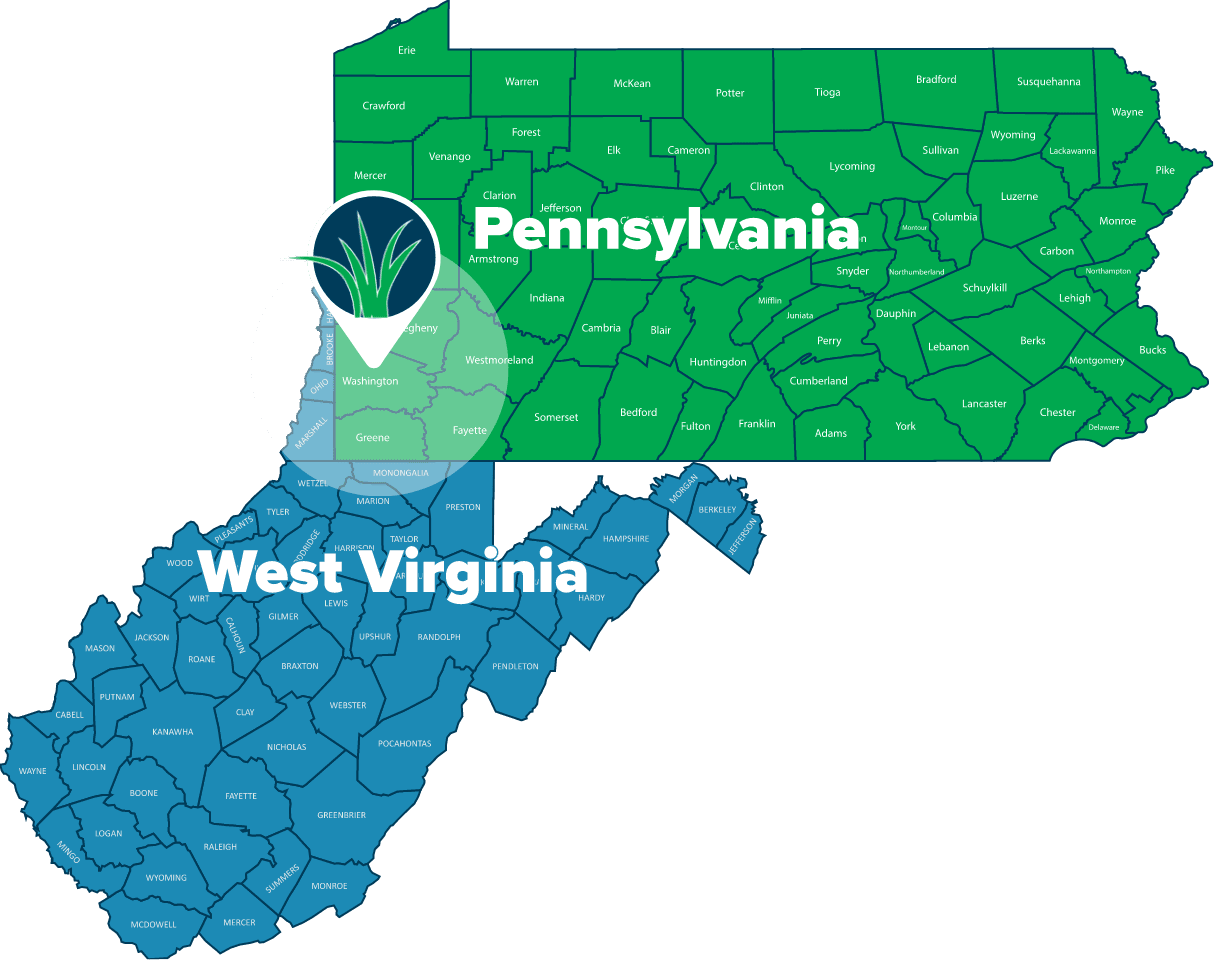 Tree and Shrub Care in Bethel Park
Our tree care in Bethel Park targets all of the threats caused by the changing Western Pennsylvania climate. But you shouldn't have to sacrifice health and safety to have a full, vibrant landscape. For that reason, our experienced technicians employ the safest treatment methods and use the highest quality products. You'll love the results!
Our tree and shrub care in Bethel Park protects your landscape for superior root growth, color, flowering potential, and insect and disease management with the following services:
Integrated pest management
MERIT systemic insect control
Horticultural oil treatments
Fertilization injections
And more!
Perimeter Pest Control in Bethel Park
If pests have begun to make you feel uncomfortable in your own home, it's time to give them an eviction notice. Our expert technicians have the skills and know-how to get pests out of your home for good. With Custom Turf's perimeter pest control in Bethel Park, you can trust us to make your home pest-free and keep it that way.
Technicians You Can Trust
With Custom Turf's perimeter pest control, you can rest assured knowing that our trained technicians will use all of the technology and knowledge at their disposal to help you. We educate our technicians on the latest technology and techniques to kill the bugs fast, allowing you to get back to enjoying your home in peace. It's not enough just to get rid of existing pests in your home—you have to prevent new infestations from popping up in the future, and pests change with the seasons. Our perimeter pest prevention methods will create an invisible barrier around your home four times a year, so your home is protected from pest problems year-round.
Mosquito Control in Bethel Park
Not only are mosquitoes annoying, but they can carry dangerous diseases such as the West Nile and Zika virus. Put your do-it-yourself treatments away and trust in the professionals at Custom Turf to protect your family from these flying pests. With our mosquito control in Bethel Park, you will add a strong layer of defense to your yard that will keep mosquitoes out for good.
Our mosquito control in Bethel Park includes:
A thorough inspection of your property to identify your mosquito infestation and its breeding grounds.
Application of effective treatments to eliminate mosquitoes.
Recurring treatments for lasting protection throughout the peak mosquito months.
Mole Control in Bethel Park
Nothing can destroy a beautiful lawn like a mole infestation. These small mammals are notorious for tunneling beneath turf in search of grubs and other insects to eat. They create ruts and ridges all through your grass, damaging your lawn's health and appearance in the process. If you want mole control that gets these critters out of your hair once and for all, you want Custom Turf. We've been providing mole control for over 30 years, and today we want to help you. 
When you partner with us for mole control in Bethel Park, you can expect the following:
A free, detailed inspection of your lawn.
Identification of signs of mole damage in your yard.
A customized treatment plan to meet your needs.
Family and pet-friendly treatments. 
A mole-free yard!
Aeration and Seeding in Bethel Park
The hot summer weather can really take a toll on your yard, leaving it balding and with diseases by the end of the season. Luckily, Custom Turf can help your grass survive the harsh summer and winter seasons. We provide aeration and seeding in Bethel Park that promotes stronger and greener grass all year long. 
Stronger, Healthier Grass With Lawn Aeration and Seeding
Lawn aeration consists of small punctures in your soil, which allows your grass to receive more sunlight, water, and oxygen for healthy growth. When it comes to aeration, our lawn care company goes one step further by also providing seeding to introduce new grass to your property. We use a method called slit seeding and plant seeds even deeper in your soil to produce stronger, more resilient roots.
The benefits of aeration and seeding include:
The reduction in weeds and lawn disease caused by heavy foot traffic. 
Richer, healthier grass and soil that more readily absorbs necessary nutrients and requires less watering.
A lawn that is drought-resistant and pest-resistant throughout the year.
Stronger root growth overall.
Grass that grows and thrives in the most extreme temperatures.
Services You Can Trust
Why spend your precious time tending to your turf when you can spend it enjoying a beautiful lawn with your family? Custom Turf will keep it green and healthy so you can head outside and bask in the results. As one of the most qualified lawn care companies in the industry, your satisfaction is our goal, and our quality customer service and competitive services mean you get the yard of your dreams hassle-free.