Lawn Care in Pittsburgh
Weeds, pests, and lawn diseases can wreak havoc on your yard if you aren't prepared or don't have the knowledge or tools to keep it healthy. Our skilled technicians visit your home every 4-6 weeks to target these problems, using only the very best products and techniques in the business. We take special care to use products that are family and eco-friendly, so you don't have to worry about your loved ones or the environment. 
Our lawn care includes the following applications:
Sustained fertilizer, broadleaf weed control, and crabgrass treatment in the spring.
Preventative grub control, broadleaf weed control, and insect control in the summer.
Lawn fertilization and heavy winterizing for faster spring green-up during the fall.
With our year-round lawn care, you'll have the best-looking lawn on the block! Trust our lawn care experts to help you take care of your lawn all year long!
Image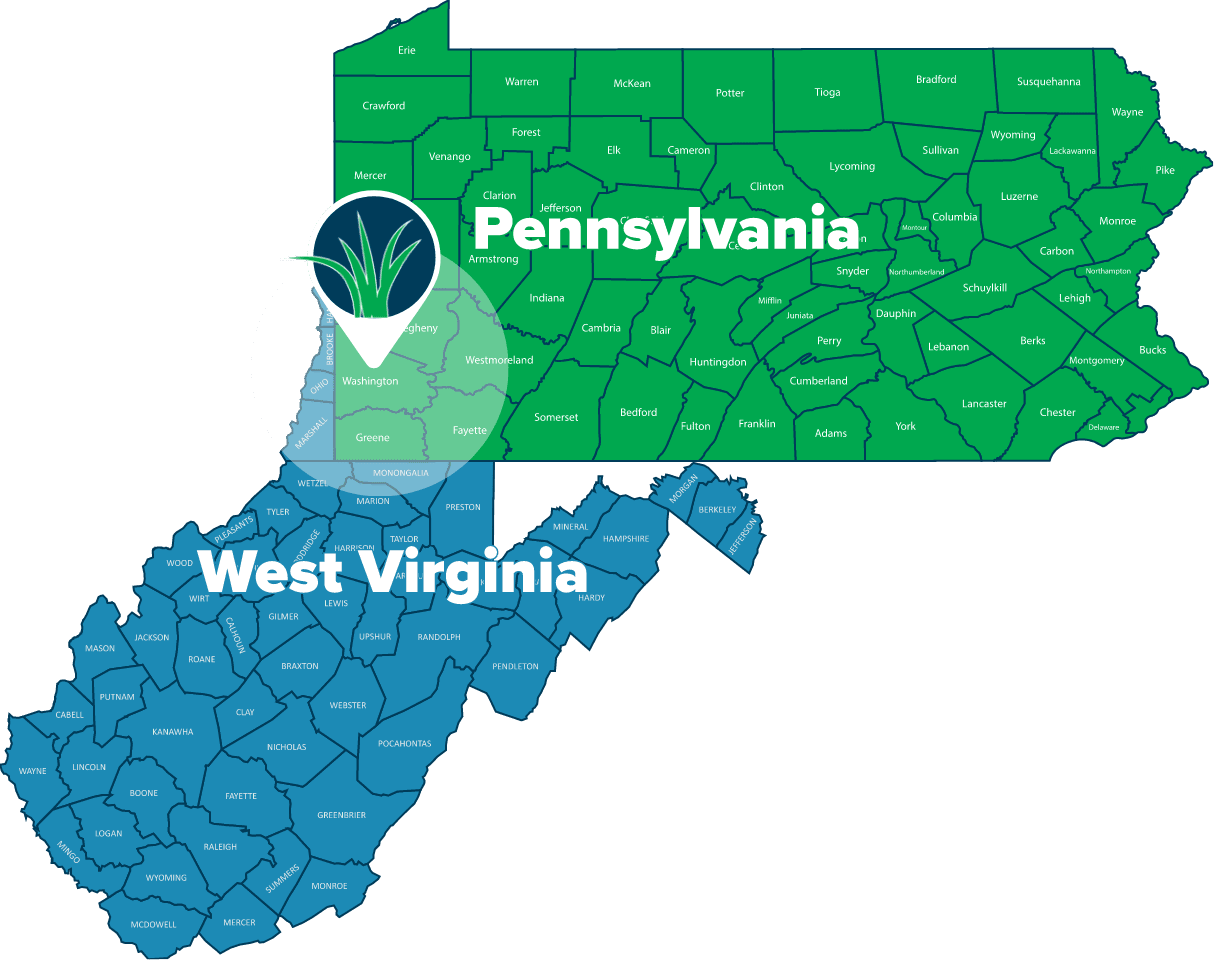 Tree Care in Pittsburgh
Are you eager to have the trees and shrubs you've always wanted but just can't find the time to put in the work? With all of the responsibilities of everyday life, it's easy for landscaping to fall behind on your list of priorities. You can count on Custom Turf to care for your trees, shrubs, and ornamentals year-round. Our highly trained technicians are here to turn your landscaping dreams into reality with our tree and shrub care in Pittsburgh.
Personalized Tree Care Programs 
When you partner with Custom Turf for your tree and shrub care, you will receive nothing but the highest quality care and products. Our specialized treatment programs aid your trees and shrubs in root growth, color, flowering potential, and insect and disease prevention. We will treat your landscape with personalized applications to enhance the health of the trees and shrubs in your yard. These applications include:
Insect control injections and horticultural oil treatments, protecting your trees and shrubs from leaf miners, mites, and scale.
Inspection and spraying to prevent insect damage and disease.
Lawn fertilization applications, which include the use of the best slow-release fertilizers in the industry.
Micronutrient injections into roots to keep your trees and shrubs sturdy throughout the year.
Lawn Aeration in Pittsburgh
With over 30 years of experience servicing homes in the Pittsburgh area, we have the knowledge and experience your lawn needs to thrive all year long. With our fall core lawn aeration services, your grass will not only look healthier in the winter, but it will become much easier to maintain in the spring!
Reap the Benefits of Aeration
Fall is a high growth period for your grass, so it's important to reap the benefits. Lawn aeration will take advantage of this growing season and give your grass the nutrients it needs to grow fuller in the springtime. When you add seasonal aeration to your lawn care package, the benefits include:
Alleviating compacted soil: Walking, playing, and moving around on the lawn can force the grass to grow in the subsoil, which contains higher clay content and will put stress on your yard. Lawn aeration will help alleviate this and naturally prevent disease and weeds!
Enhancing nutrient uptake: Removes blocked soil which will allow nutrients such as water, air, fertilizer, and seeding to reach the roots. It also can improve the depth of the roots, allowing the grass to dig down deeper—which means less watering for you!
Improving the overall health of your lawn: With repeated treatment from our experts, your grass will be healthy enough to resist threats such as extreme temps, drought, and pest problems. 
Perimeter Pest Control in Pittsburgh
Don't let bugs and other pests make you feel uncomfortable in your own home. Here at Custom Turf, we know that the best way to keep your home pest-free is not to let them get inside to begin with, which is why we offer perimeter pest control. We have the most advanced techniques designed to kick pests to the curb and prevent them from coming back.
Our exterior exterminators will create an invisible barrier around the exterior of your home to prevent the following pests from gaining entry:
Ants 
Spiders
Centipedes
Moles 
And more
Family and Pet-Friendly Treatments for Your Peace of Mind
Four times a year, our team will visit your home to eliminate common pests. Your family's safety is of the utmost importance to us. Perimeter pest control focuses on the exterior of your home, away from children and pets. In addition, we use family- and pet-friendly products, so you don't have to worry about your loved ones when getting rid of creepy crawlies.
Mosquito Control in Pittsburgh
Whether you're hosting a backyard get-together or just playing fetch with your dog, you don't want pesky mosquitoes to ruin your outdoor fun! Keep your family and your guests protected from these biting insects with our recurring mosquito control treatments. 
When you call Custom Turf for mosquito control in Pittsburgh, you can expect:
One of our friendly, highly trained exterminators to arrive promptly at your home and start by inspecting your property and determining the best course of action.
Treatment your property.
Advice for making the most of our treatments.
Recurring mosquito control treatments to keep your you and yard protected.
Flea & Tick Control in Pittsburgh
Nothing beats spending time outdoors with your loved ones on summer or fall nights! Unfortunately, Pennsylvania has one of the highest rates of Lyme disease in the country, making professional tick control in Pittsburgh more important than ever. Much like ticks, fleas can also threaten the health of you, your family, or your pets. Protect your family from these dangers with our seasoned flea and tick control.
Recurring Flea & Tick Treatments
The best way to get rid of fleas & ticks and to keep them gone for good is with recurring flea & tick control treatments. Here at Custom Turf, our trained exterminators will inspect your yard and treat the area to keep these pests away for good. Sign up for our recurring flea & tick treatments today to keep your loved ones safe from these pests.
Mole Control in Pittsburgh
Moles burrow underground and can cause serious damage to your yard. Moles create tunnels beneath the surface in search of food, shelter, and areas to breed. Not only are moles destructive, but they are also notoriously difficult to remove. Because of this, handling a mole problem requires extreme skill and experience, making it difficult for homeowners to treat on their own. Our highly trained exterminators can help evict moles from your property and keep them from causing damage in the future! 
If you have a mole problem, let our team of professionals take care of it from start to finish. When you partner with Custom Turf for mole control, we will provide a thorough inspection of your yard, evaluate the severity of your current mole infestation, and implement the best treatment plan to restore your property back to health in no time.
Hassle-Free Services & Quality Results!
Your life is busy. Don't spend your well-earned free time caring for your lawn when we can do it for you. Our quality customer services and competitive prices mean that you can get a spectacular-looking lawn in no time without putting in the effort. When you partner with us, we work together to make your lawn an oasis for you, your family, and your guests.