Lawn Care in Cranberry Township
Pennsylvania's climate can make caring for your yard difficult, especially in the winter. The cold weather months bring harsh temperatures and damaging conditions while the warm weather months bring insects and diseases—all of which threaten your lawn and prevent it from thriving the way you want it to. Our technicians take a proactive approach to lawn care by preventing weeds, pests, and diseases before they become a problem. 
Our lawn care services in Cranberry Township incorporates the following every 4-6 weeks:
Seasonal weed control
Insect and disease protection
Preventative grub control
And more!
If you don't reside in Cranberry Township, our technicians also service Pittsburgh and its surrounding cities.
Image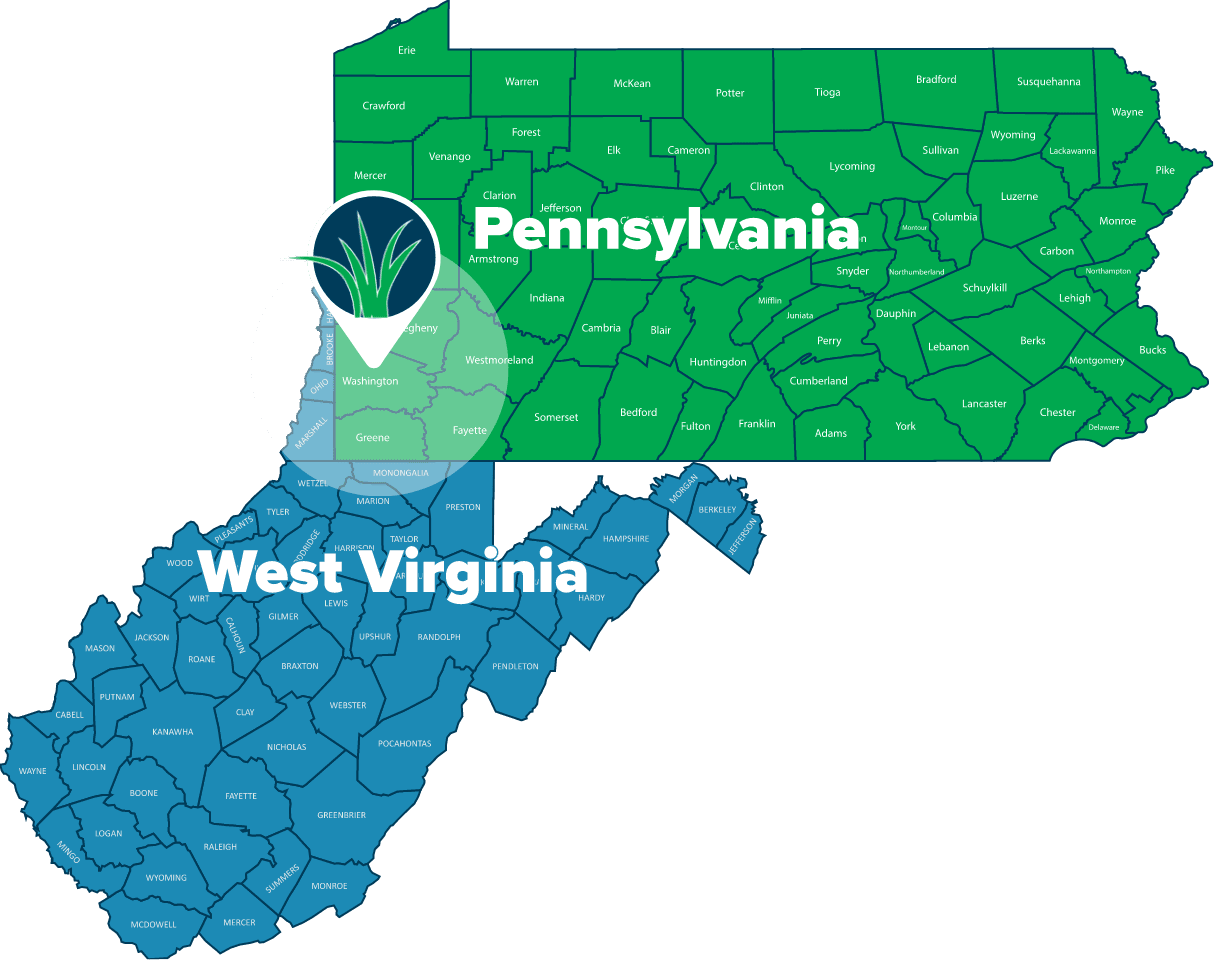 Tree & Shrub Care in Cranberry Township
At Custom Turf, we know that all plants are not the same, which is why our expert technicians determine the particular needs of your landscape and then design a customized treatment plan that aligns with those needs. Our tree and shrub care in Cranberry Township is the easiest and most effective way to protect your valuable landscape.
Year-Round Treatment For Long-Term Results
The foundation of our 6-step treatment program is prevention: protecting plants from insect infestation and fungal diseases before there is a serious problem. By identifying potential issues early and applying the appropriate treatments, our technicians can ensure the continued growth and prosperity of your trees and shrubs for the long term. Every 4 to 6 weeks, your plants will get a combination of the following for superior root growth and flowering potential:
Systemic insect control
Horticultural oil treatments
Integrated pest management
Perimeter Pest Control in Cranberry Township
Pest infestations don't belong in your home—ever. With help from Custom Turf, these bugs are no match against our perimeter pest control in Cranberry Township. For almost 30 years, Custom Turf has been dedicated to creating pest-free homes. During that time, we developed our powerful 4-step perimeter pest control service. It creates an invisible barrier around the exterior of your home to stop the following from entering your home in the first place:
Ants
Spiders
Cockroaches
Moles
And more!
Mosquito Control in Cranberry Township
Mosquitos, fleas, and ticks can make spending quality time outdoors seem impossible—buzzing, biting, and putting you in an itchy and uncomfortable situation. If you're ready to take back your outdoor spaces and enjoy your yard with family and friends, Custom Turf's mosquito control services in Cranberry Township are the way to go! 
When you partner with us for your mosquito control needs, you can count on: 
A free home inspection to locate possible breeding grounds and problem areas. 
Effective treatments to eliminate mosquitos, fleas, and ticks. 
Recurring treatments throughout the mosquito season to give you continued relief. 
Mole Control in Cranberry Township
Despite their small size, it won't take long for moles to undo all the hard work you've done in maintaining and cultivating your lawn. These small mammals tunnel underneath the ground in search of earthworms, grubs, and other insects to feed on and areas to live and reproduce. In the process, they create unsightly ridges and holes in your turf, which can drastically undermine the appearance of your landscape. Here at Custom Turf, we are proud to provide fast and effective mole control in Cranberry Township. As a local lawn care company with over 30 years of experience, our treatments are designed to quickly eliminate your mole infestation so you can get back to enjoying your yard in peace. If you think moles are the culprit of your lawn's problems, check out some common signs of mole activity to be on the lookout for.
Lawn Aeration in Cranberry Township
Are you struggling to bring your yard to the next level? If you're stuck with dry, thinning grass despite properly weeding, watering, and fertilizing, that's a sign it's time to contact the best lawn care company in Cranberry Township, Custom Turf! We provide lawn aeration services that allow the proper nutrients to reach your grassroots and relieve lawn damage.
Our lawn aeration service provides the following benefits:
Heals damage caused by foot traffic, drought, and other poor weather conditions.
Protects your yard against pests and lawn disease by increasing nutrient flow.
Ensures a gorgeous turf during the winter and summer months after we provide service in the fall. 
Decreases the amount of time you have to spend watering, making it easier for you to enjoy your yard the way you deserve!
A Respected Team of Trained Professionals
Custom Turf makes it possible for you to have a beautiful lawn without spending all of your free time working in your yard. In fact, you can trust our technicians to take care of your lawn like it's their own. With our lawn care services in Cranberry Township, you receive the competitive prices and superior service we know you deserve! Whether you give us a call or ask us a question in person, you'll always get our undivided attention. Are you ready for a spectacular-looking yard?