Lawn Care in Monroeville
Lawn care in Monroeville is a complicated business. Mowing and watering are just the tips of the iceberg—in fact, to reach its full potential, your turf often needs the TLC and expert treatment that can only be perfected with years of experience. Luckily, that's just what you get with Custom Turf. For over 30 years, we've been mastering lawn care in Pittsburgh and its surrounding area. With Custom Turf providing your lawn care, you won't have to worry about a thing! 
Eco-Friendly, Year-Round Treatments
Are you overwhelmed by the number of fertilizers available at your local hardware or gardening store? You're not alone. With so many options for lawn care in Monroeville, it can be hard to know what's best for your lawn's unique needs. That's where Custom Turf comes in. We treat year-round with family-friendly products to give you peace of mind and a beautiful yard. 
When you partner with us for lawn care in Monroeville, you can expect the following:
Scheduled treatments every four-to-six weeks to keep your lawn healthy and happy.
Eco-friendly solutions you can trust.
Customized lawn treatments, including customized fertilizer blends.
And more!
Image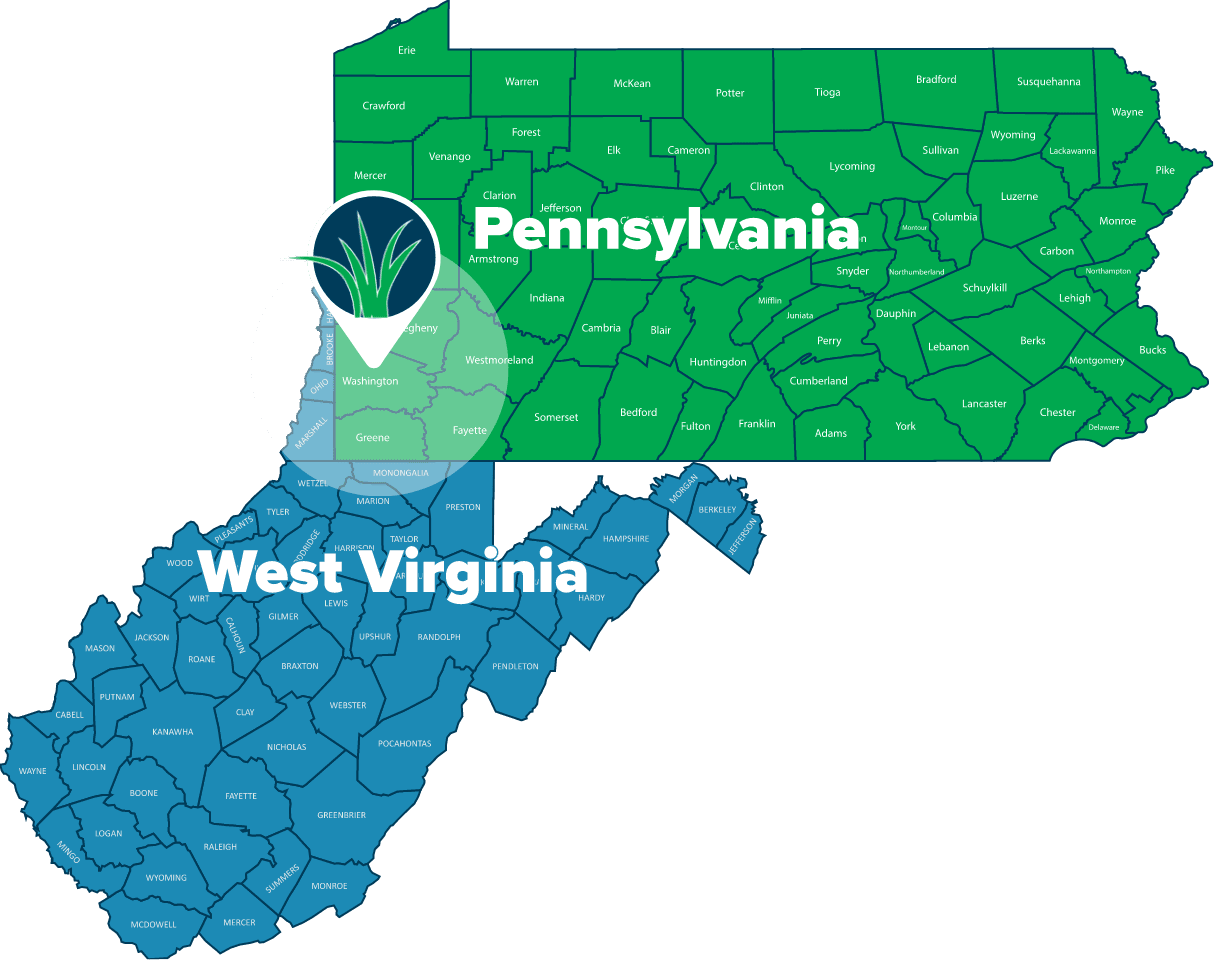 Mosquito, Flea, and Tick Control in Monroeville
Lawn pests aren't just annoying—some can even be dangerous. Ticks can expose you and your loved ones to Rocky Mountain Spotted Fever, Lyme Disease, and a whole host of other illnesses, while mosquitoes spread West Nile Virus, Malaria, Zika, and more. If you want to protect your family from these dangerous pests, look no further than Custom Turf. The recurring treatments and 30+ years of experience that come with our mosquito, flea, and tick control in Monroeville will keep your home protected from these pests—for good. That's the peace of mind you deserve.
When you sign up for our mosquito, flea, and tick control, you can expect:
A free inspection
The application of effective treatments
Recurring treatments during the height of mosquito season
Mole Control in Monroeville
You've worked hard to create a lawn you can be proud of. Don't let moles take that away from you! These destructive pests set up shop in tunnels beneath your lawn to eat grubs, further damaging your lawn's roots. Here at Custom Turf, we can help you identify the common signs of mole invasions with our mole control in Monroeville. 
Lawn Aeration in Monroeville
Lawn aeration is an incredibly important but often overlooked aspect of a good lawn care routine. Aeration will provide an instant boost to the health and wellbeing of your grass and give you that thick, green lawn that you deserve. With over 30 years of experience in the lawn care industry, our teams are well versed in all of the specific challenges that come with maintaining a yard in the greater Pittsburgh area. 
Lawn aeration provides a number of benefits to your lawn, including: 
Breaking up thatch and debris:

Overtime due to hot weather, foot traffic, and other activity, your lawn can compress and a thick layer of debris can develop. This can choke off your grass and prevent the necessary oxygen from getting to the roots. Aeration services break this up and allow your lawn to breathe!

Increased nutrient absorption:

This causes all fertilization, watering, and seeding to have a greater impact, leading to less expenditure over time. 

Disease-resistant lawns:

Breaking up the dead and dying grass debris in the lawn reduces the growth and spread of disease. This helps your lawn stay healthy and disease-free in the long-term. 
Tree and Shrub Care in Monroeville
We're dedicated to helping your property reach its full potential, and that doesn't stop at your grass! Our tree and shrub care in Monroeville is designed to keep your ornamentals looking their best year-round with visits every four to six weeks. We create a custom treatment plan based on the type of ornamentals you have and their current condition to give you the best results possible!
Our tree and shrub service in Monroeville includes:
Systemic insect control injections and oil treatments to protect against pests in the spring.

Integrated Pest Management techniques throughout the summer to treat insects and diseases.

Slow-release tree fertilizers and micronutrient injections in the fall to prep your plants for the winter.
Perimeter Pest Control in Monroeville
What's the best kind of pest infestation? One that doesn't happen at all! At least, that's what we here at Custom Turf think and we're guessing that most of you probably do too. That's where our perimeter pest control service can help you out. With more than 30 years of experience across Western Pennsylvania backing them up, our pest exterminators in Monroeville will protect your home from common local pests, like:
Ants

Spiders

Cockroaches

And many more!
When you've got our perimeter pest control working for you, you'll have an invisible, bug-resistant, 6x8 barrier around your home that prevents infestations before they start. Don't wait for annoying bugs to get inside and instead, give us a call today!