Lawn Care in Moon Township
Since 1987, we've been giving our neighbors the luscious grass they deserve, and we can give yours a boost, too! Our lawn care services protects your turf from every angle, keeping it safe from diseases, insects, and other outdoor pests while allowing it to grow healthy and strong. Our lawn care professionals come out every 4-6 weeks and treat with family-friendly products, too! With our team on your side, we'll transform your lackluster yard into one you can be proud of.
Our lawn care in Moon Township also includes:
Pre-emergent weed and crabgrass control to prevent weeds from taking over your yard.
Post-emergent weed control to eliminate weeds that have already sprouted.
Preventative grub control that keeps these nasty pests, and the brown spots they cause, out of your lawn.
Strategically applied insect control, keeping your grass healthy from tip to root.
Winterizers that encourage your turf's roots to grow deeper, allowing it to better handle harsh temperatures.
Image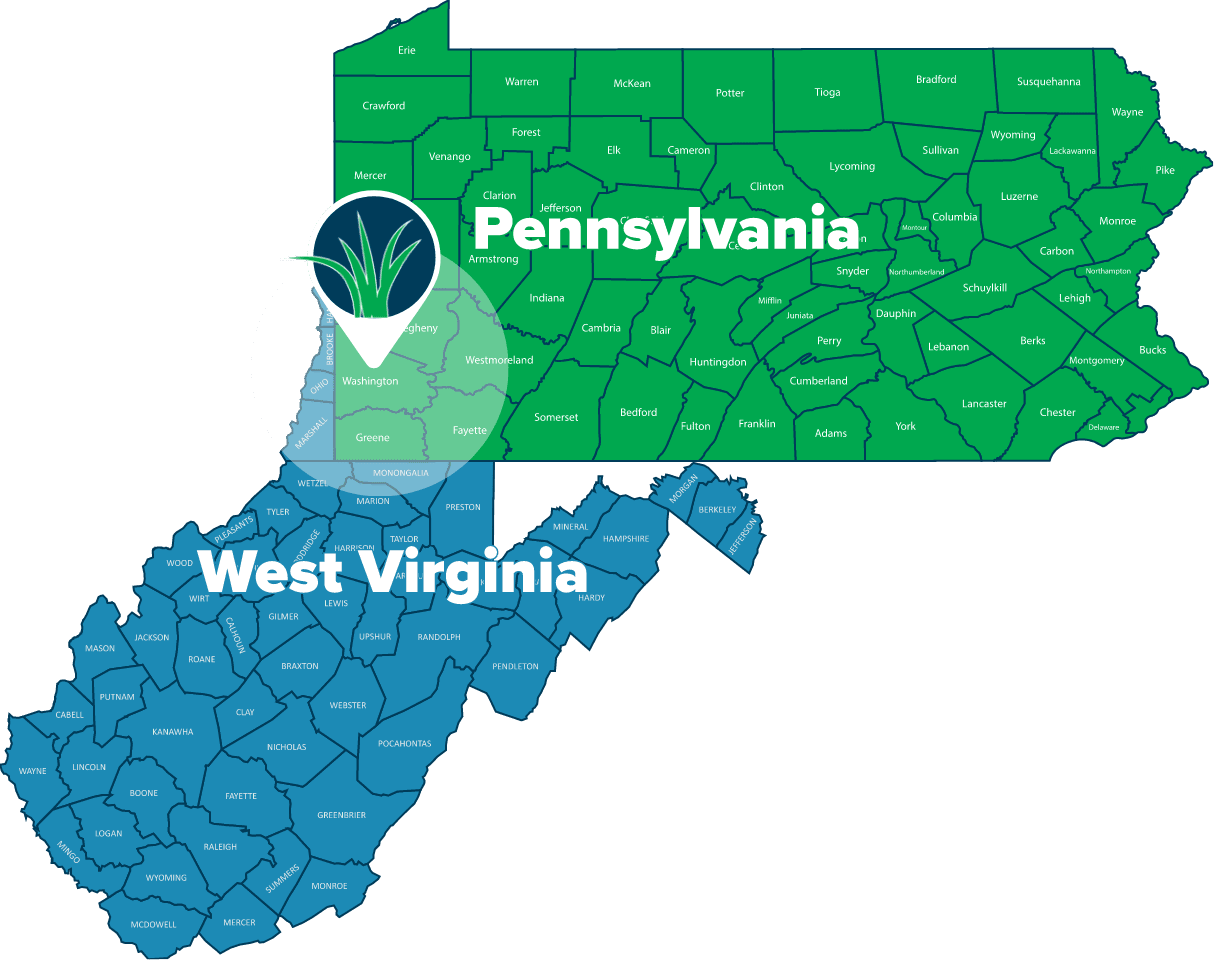 Lawn Aeration in Moon Township
A good breath of fresh air can make a big difference in your day. The same is true for your lawn! In order to thrive, your turf needs air, nutrients, and water. Over time, the soil becomes increasingly compacted by certain weather, mowing, and foot traffic—this makes it impossible for your grass to get enough oxygen and nutrients. Give your yard the breath fresh air it needs to thrive with Custom Turf's quality lawn aeration and seeding in Moon Township!  
Get The Results You Want With Core Lawn Aeration
If you are constantly watering, weeding, and mowing and still not getting the lush green turf you want, lawn aeration is likely the answer you're looking for. By removing small plugs of grass during the fall season and following up with lawn seeding, you will get the following results:
Healed lawn damage: Aeration will reverse the negative effects of foot traffic and weather. 
Stronger grass: By ensuring your grass gets the proper nutrients, you strengthen your yard against lawn disease, weeds, pests, drought, and extreme temperatures.
Increased root growth: Promotes natural root growth which leads to a thicker, healthier yard, especially when combined with our highly effective slit seeding.
A healthier lawn year-round: Your grass in the fall leads to a healthier yard in the winter and a beautiful lawn in the spring and summer.
Decreased need for watering: Since your turf will be able to properly absorb water and nutrients, you won't need to water as much. 
Mole Control in Moon Township
Do you keep finding tunnels and holes in your yard? Tired of spending time on removal methods that don't work? If you start to see signs of mole activity, such as large piles of dirt or holes in your yard, call the experts as soon as possible. At Custom Turf, we are a lawn care company that wants to make sure your beautiful lawn stays that way. Our mole control specialists are trained to deal with the toughest infestations to ensure they're completely eliminated and don't come back. 
Eco- and Family-Friendly Products
Moles can create a lot of damage in your yard and are difficult to get rid of without professional help. However, that shouldn't mean you need to put the health of yourself and your loved ones at risk. That's why we offer eco- and family-friendly mole control products here at Custom Turf. 
When you sign up for our mole control in Moon Township, you can expect:
A free estimate and inspection to determine the best treatment methods.
Customizable options for treatment.
Help from local mole control specialists who know the proper techniques for mole removal.
Tree & Shrub Care in Moon Township
Taking care of your yard is more than just maintaining your grass, and our team at Custom Turf understands that. That's why we take extra care with our tree and shrub care services to make sure that all of your ornamentals are just as well cared for. Our treatments provide a detailed six-step approach that encourages superior root growth, color, and flowering potential which they deserve. 
When you partner with our team for your tree and shrub care in Moon Township you'll receive: 
A yard inspection

to see what services your trees and shrubs need and determine the best next steps. 

A free estimate

for all services so that you know exactly what to expect from our team. 

Fertilizer application

to promote strong growth.

Weed and grub control

to help keep your ornamentals protected and promote healthy plants. 

Repeat visits

to make sure that all your plants remain in peak condition. 
Mosquito Control in Moon Township
As the number of mosquito-borne diseases climbs every year, protecting your loved ones from these harmful viruses becomes increasingly important. Mosquito treatment both serves to reduce your family's risk of contracting a disease like Zika Virus and makes your outdoor space that much more inviting for those delightful summer and fall evenings. 
As the leading mosquito control company in Moon Township, we offer:
Detailed yard inspections by our skilled mosquito exterminators.

Targeted and effective treatments that slash the mosquito population around your home.

Special event treatments so you can host like a pro.

Recurring monthly treatments so you can enjoy a mosquito-free yard all season long.
Perimeter Pest Control in Moon Township
At Custom Turf, we take our perimeter pest control to the next level. We are trusted by our customers because we deliver results that keep bugs out for the long term. We do so by implementing tried and true methods that place a protective barrier around your home and put pests back in their place. When you work with our technicians, you're set up to experience the best perimeter pest control in Moon Township. We pride ourselves on high-quality customer service, top-of-the-line products, and adding that personal touch to everything we do. 
Our team can take on any pest, such as:
Ants

Centipedes

Spiders

Flies

And more!
Fast, Reliable Service
If you're in need of service immediately, just know you can always count on us to be there. We take your time seriously over at Custom Turf, and we make it a priority to get you the help you need in a timely manner. When you choose us, you'll never be left waiting for long. Our technicians will be on their way before you know it!