Lawn Care in Fox Chapel
At Custom Turf, we've been creating beautiful lawns in Fox Chapel for over three decades. We have plenty of experience successfully combating common threats like harsh temperatures, weeds, and damaging insects that keep grass from thriving. Our expert technicians take a proactive approach to lawn care in Fox Chapel, preventing threats before they can harm your grass and resulting in thick, lush turf you can be proud of. We also provide you with expert lawn care knowledge to keep your yard looking amazing all year long.
Comprehensive Treatment Plans
Our skilled technicians are dedicated to giving you the best lawn on the block. How do we give you the grass of your dreams? Every 4-6 weeks, our team of lawn care specialists will treat your turf with a combination of the following services:
Custom-blended fertilizer
Seasonal weed and pest control
Preventative grub control
And more!
Image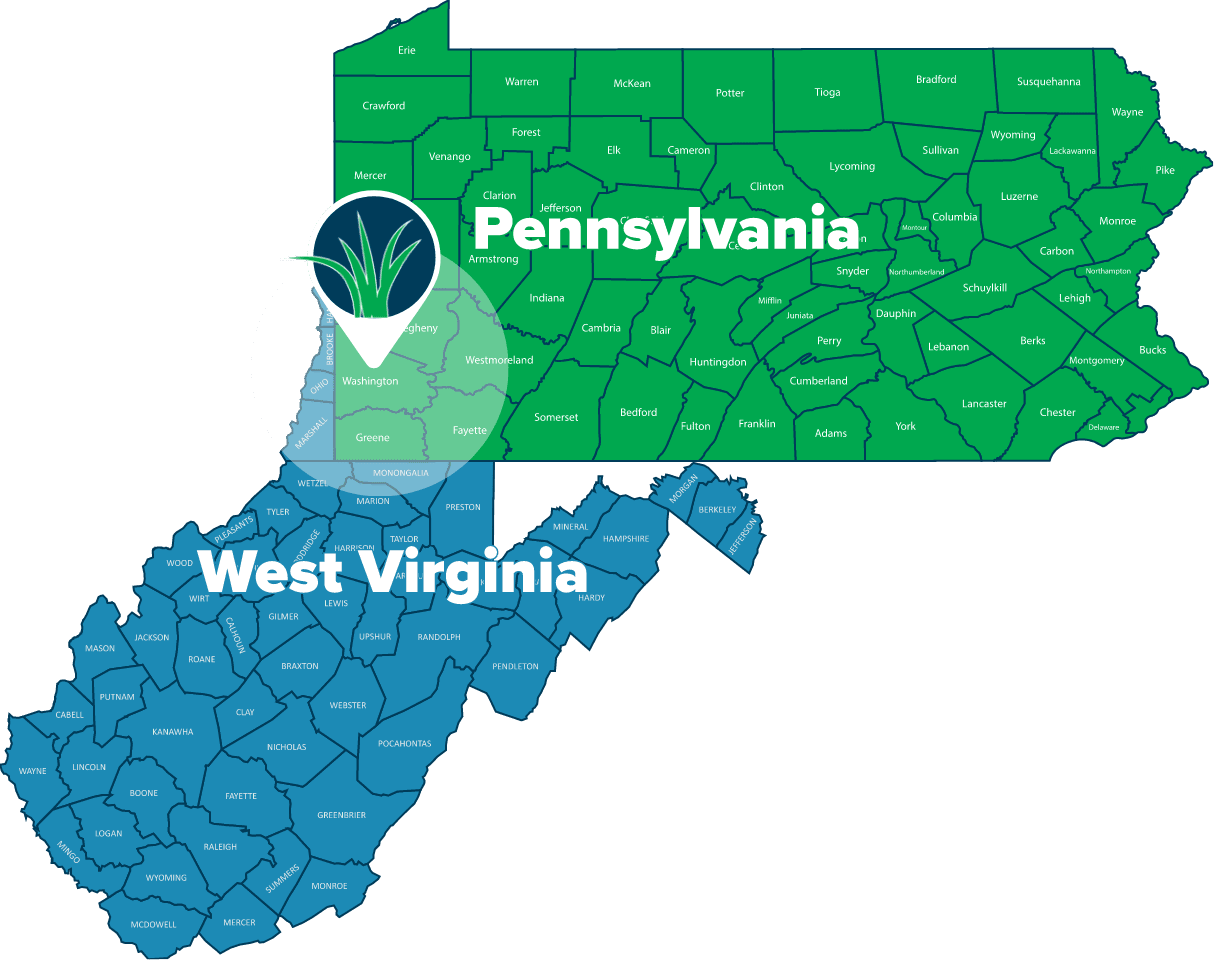 Tree & Shrub Care in Fox Chapel
At Custom Turf, we have spent decades creating gorgeous landscapes for customers. During that time, we've learned that the needs of plants can vary widely from property to property. Our technicians have a comprehensive knowledge and understanding of trees and shrubs. When you choose tree and shrub care from Custom Turf, your plants get the treatments needed for continued growth and development—as well as protection from insect infestation and fungal diseases. 
Every 4 to 6 weeks, our expert technicians will implement our 6-step treatment program, which includes:
Slow-release fertilizer treatments
Systemic insect control injections
Horticultural oil treatments
Integrated pest management
And more!
Perimeter Pest Control in Fox Chapel
Here at Custom Turf, we know that the best way to keep your home pest-free is keeping bugs away for the long term. We've spent almost three decades creating pest-free outdoors. Along the way, we've fine-tuned our four-step perimeter pest control service to get the results you expect and deserve. Our technicians create an invisible barrier that will surround the exterior of your home, stopping a wide range of bugs in their tracks, including:
Ants
Spiders
Cockroaches
Moles 
And many more!
Mosquito Control in Fox Chapel
Nothing can ruin a fun afternoon relaxing on the porch like mosquitoes. These pests not only leave you itchy and uncomfortable, but they can infect you and your loved ones with a range of dangerous diseases, including West Nile virus, Zika, yellow fever, and more. Our team at Custom Turf doesn't want you to take that risk. We can help you with all your needs for mosquito control in Fox Chapel so you can enjoy the great outdoors in peace. 
When you call our mosquito control team, you can expect:
A free inspection of your home by one of our trained and friendly Fox Chapel mosquito exterminator technicians. 
Because mosquitoes breed quickly, recurring treatments for you so you can keep these dangerous pests at bay all year, especially in the summer months when mosquitoes are at their most active.
Tailored advice on how to get the most out of our treatments.
Mole Control in Fox Chapel
It takes a lot of time and energy to maintain a lush, green lawn. The last thing you want is to discover that your healthy turf has been uprooted by tunnels in the soil and mounds of dirt. These tell-tale signs of mole activity mean it's time to contact a professional lawn care company for mole control as soon as possible. Don't let underground pests destroy the lawn you've worked so hard to maintain. Contact Custom Turf for family-friendly mole control in Fox Chapel and keep your lawn looking its best! 
Get Rid of Moles The Safe Way
Moles are notoriously difficult to get rid of. Although different at home treatment methods are available, these can damage your lawn and even pose a threat to the health of your family and pets. When you entrust Custom Turf with the care of your lawn, we guarantee the use of family and pet-friendly treatments that eliminate your mole infestation without harming your household. For safe and effective mole control, we use only organic products and avoid the use of bait and traps which have been shown to be ineffective. Schedule your hassle-free service today and protect your lawn from serious damage.
Aeration in Fox Chapel
Even the most meticulously cared for yard will need a helping hand from time to time. But if your grass is starting to droop, dry up, or die, the solution is often a very simple one. Here at Custom Turf, we're proud to offer Pennsylvania's highest-quality aeration to give your grass a boost and keep it healthy all year! Lawn aeration in Fox Chapel can benefit your yard in a wide variety of ways, including:  
Loosening compacted soil which occurs in lawns with heavy foot traffic.
Increasing oxygen levels in your soil.
Providing grassroots with easier access to essential water and nutrients.
Reducing levels of standing water on your grass, depriving diseases and fungi of a place to develop.
Fostering a healthier plant from root to stem to outgrow weeds and resist pests.
Creating a full, healthy, and vibrant appearance.
And more!
Superior Lawn Care Service And Competitive Prices
Here at Custom Turf, we know you're busy—and we want you to have one less thing on your plate! Because your satisfaction is important to us, you can trust our courteous lawn care technicians to use the very best products to create and maintain your lawn the way you've always wanted. Plus, we proudly add a personal touch to every service by giving customers our undivided attention in person and on the phone, cleaning up carefully, and leaving your yard just as neat and tidy as when we arrived. It's how we do lawn care in Fox Chapel! Live outside of Fox Chapel? Our lawn care technicians service Pittsburgh and its surrounding area!