Lawn Care in Canonsburg
To get turf that's lush and green in every season, you need customized care tailored to meet your lawn's unique needs. When you work with Custom Turf, you'll get just that. Our lawn care in Canonsburg utilizes seasonal fertilization treatments, herbicides, and other professional services to keep your lawn healthy down to the roots. When you partner with us for lawn care in Canonsburg, you can look forward to the following:
Spring fertilizer treatments and broadleaf weed and crabgrass control treatments.
Summer services for grub control, insect control, and weed prevention.
Fall winterizer treatments and fertilization to keep your grass strong in the cold.
Family-Friendly Lawn Treatments You Can Trust
At Custom Turf, we care about giving you a lawn you can be proud of while keeping you and your loved ones safe in the process. Since 1987, our lawn technicians in Canonsburg have utilized only family-and-pet-safe treatments with our lawn care to be gentle on the ones you love while still effectively protecting and fortifying your lawn. Even better, our customized treatments will allow us to cater to your lawn's unique needs with every service, giving you results faster than ever before. 
Image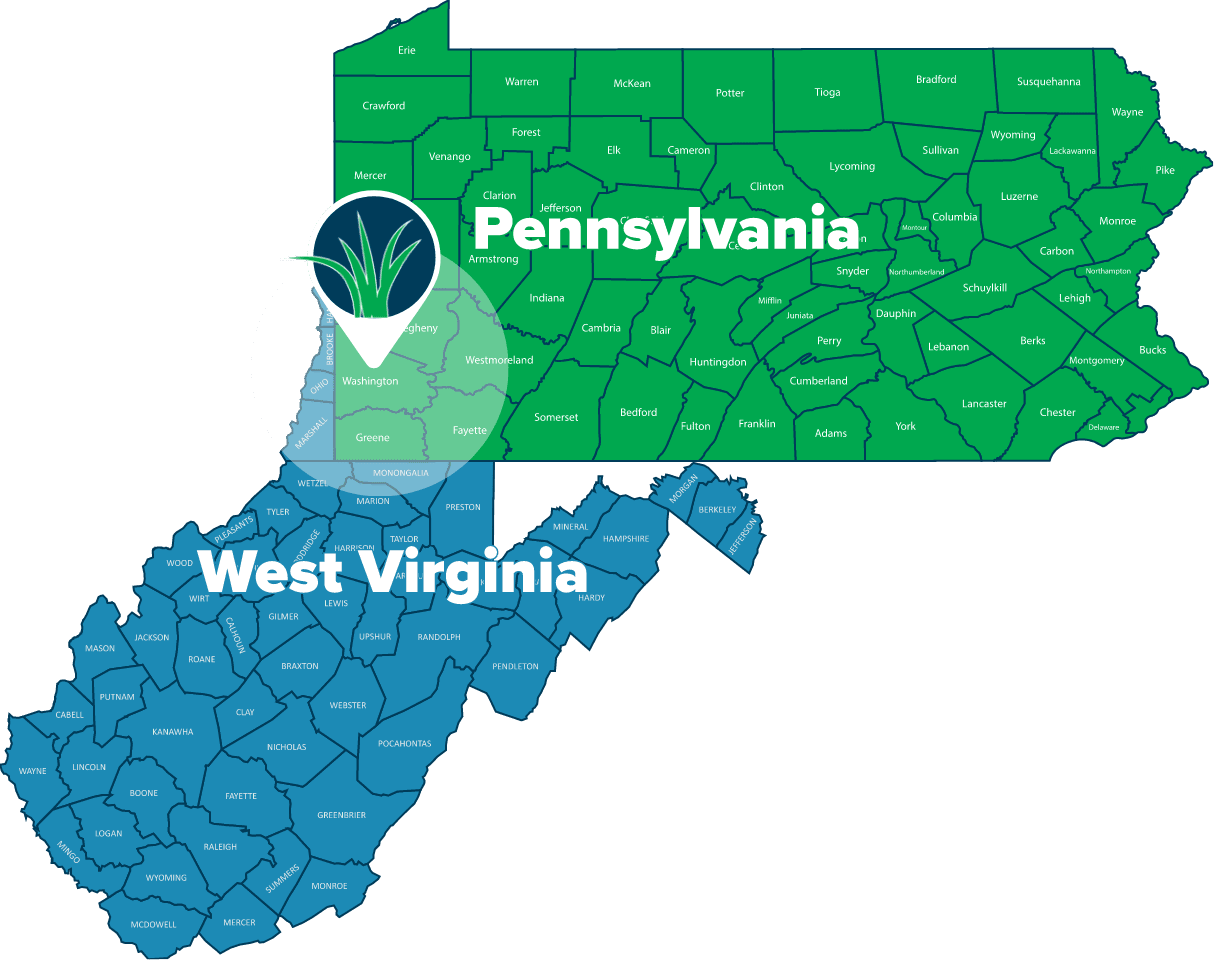 Lawn Aeration in Canonsburg
Quality lawn care requires going above and beyond mowing, watering, and other basic lawn maintenance. Here at Custom Turf, we're proud to provide lawn aeration in Canonsburg that will perk up dull turf and give your lawn's health a boost. Aeration involves removing small plugs of soil from your lawn in order to allow nutrients such as water and oxygen to reach down to your lawn's roots. Get your lawn the help it needs today, contact our lawn care experts and start on your path to a greener, healthier lawn.
30 Years of Lawn Care Experience
With over 30 years of experience, our team of lawn technicians knows how to perform this process in a way that is quick, efficient, and effective, helping you get turf that turns heads! When you choose your neighbors at Custom Turf, our lawn aeration in Canonsburg will do the following:
Repair damage done by foot traffic.
Reduce weeds.
Making your lawn more resilient.
Lessen the amount of time you need to spend watering.
Revitalize your lawn!
Perimeter Pest Control in Canonsburg
Pests don't belong in your home, but waiting until they invade to take action is a recipe for disaster. Luckily, the exterminators at Custom Turf are here to help. Our perimeter pest control services in Canonsburg protect your home from the outside in, creating a pest-free barrier around your home to prevent pests from ever making their way inside. We provide protection from a variety of Pennsylvania's most common pest invaders.
Hassle-Free Pest Control That Puts Your Family First
Sharing your home with pests can be stressful, but getting them out shouldn't have to be. That's why our perimeter pest control in Canonsburg is designed to be family-friendly and stress-free. By focusing our efforts on the outside of your home, we are able to eliminate indoor pests without ever having to invade your space. Not only does this keep the areas your children and pets spend the most time chemical-free, but it also means we can come service your home without you needing to be there. If you are ready for a hassle-free and family-friendly pest solution, Custom Turf is the way to go.
Our perimeter pest control in Canonsburg includes:
Quarterly visits to keep your home pest-free all year long
Exterior pest control treatments to create a 6x8-foot-wide bug-free zone around the perimeter of your home
Family and pet-friendly treatment options that keep your family safe
A guarantee that if pests return between regularly scheduled visits, we'll send someone out to retreat for free
Mosquito Control in Canonsburg
Pennsylvania's warm summer days and cool summer nights are perfect for enjoying time outdoors with your family, but when mosquito season starts, a night inside can start to feel like the better option. If you're ready to reclaim your outdoor spaces, Custom Turf is here to help. Our mosquito control in Canonsburg eliminates mosquitoes quickly and effectively, restoring your backyard to a fun-filled and mosquito-free zone.
Rid Your Backyard of Mosquitoes For Good 
Bug spray and DIY treatments are fine for offering temporary relief from mosquitos, but when it comes to long-lasting relief you can count on, partnering with the professionals is the way to go. Here at Custom Turf, our Canonsburg mosquito treatments are designed to give you total relief from mosquitoes and the itchy welts they cause. Even better? With recurring mosquito control treatments and help from our team of expert exterminators, your yard will stay mosquito-free all season long, giving you the lasting relief you crave. When you partner with us for mosquito control in Canonsburg, you will receive:
A free property inspection to help our experts get a better idea of where mosquitoes are breeding and living in your yard.
Recurring treatments from June to August to keep your yard mosquito-free all summer long.
One-time treatment options to keep your special outdoor events mosquito-free.
Mole Control in Canonsburg
When you've spent time, sweat, and money so your lawn and garden flourish, nothing is as deflating as seeing your hard work torn up by moles. If you've tried DIY mole control, such as trapping moles, you know how difficult these burrowing creatures can be to remove. Getting rid of moles requires some serious expertise.
When you partner with Custom Turf for mole control in Cannonsburg, you can expect:
A free inspection of your yard.

Courteous and timely service.

Treatment with high-quality and organic products that keep your family and pets safe.

A yard free of moles!
Tree and Shrub Care in Canonsburg
Lush, green shrubs and tall, healthy trees add so much more than just character to your yard. Rather, they contribute fresh, clean air and much-needed shade to your outdoor spaces and even stability to your yard's soil. But did you know that your ornamentals are capable of even more? It's true! In fact, your showpiece plants can put money back in your wallet, increasing your home's resale value by as much as 20%. Knowing that, why would you entrust your tree and shrub care service in Canonsburg to anyone but the best? 
Our tree service in Canonsburg includes:
A full inspection of your outdoor spaces

to properly assess your needs.

Slow-release fertilizers

which provide high-quality nutrition to your ornamentals all year.

Insecticide treatments and horticultural oils

that protect your vulnerable shrubs and trees from destructive pests. 

A proactive treatment plan

from a local tree care specialist. 

And much more!
Flea and Tick Control in Canonsburg
The presence of fleas and ticks can make it difficult to enjoy your time outdoors, especially when you are constantly worried about the well-being of your loved ones. These pests have the potential to transmit deadly diseases to you and your family, and we know you would do anything to keep them safe. When you work with Custom Turf, you'll experience flea and tick control that allows the outdoors to serve as your happy place again. Wait no longer to take back your peace of mind. We're the right guys for the job, and only one call away. 
When you opt for our flea and tick control services, you'll get:
A complimentary, in-depth home inspection. 
Effective treatments, and long-term results.
Treatments on a regular basis during peak season. 
100% satisfaction guaranteed.
We Go The Extra Mile
We run our business the right way, which means we add a personal touch to everything we do. We pride ourselves on exceptional customer service, using products that are right for you, and making sure that you are satisfied at the end of the day. Our technicians work extra hard to give you an experience that exceeds your expectations by guaranteeing a timely response and nurturing a lasting relationship with you and your family. If you're looking for top-of-the-line service all around, choose Custom Turf!
Reliable Service You Can Trust
Personalized service is just one thing that sets our lawn care in Canonsburg apart. We also aim to go the extra mile to make sure that we tidy your yard after every treatment. Our lawn technicians in Canonsburg treat each lawn like their own, and we aim to make it possible for you to start enjoying the benefits of our service right away. We're always happy to give you a follow-up phone-call after every treatment to make sure you're satisfied and to answer any questions you might have.