Lawn Care in Peters Township
At Custom Turf, we understand the value of a gorgeous yard. That's why we have been dedicated to providing the best lawn care in Peters Township by creating and maintaining healthy, vibrant grass. Our quality services and competitive prices have helped us to develop an outstanding reputation in the community. Using a proactive approach, our professional lawn care technicians continue to ensure your get the green grass you're looking for.
Get Your Weekends Back
We know your free time is precious. Why spend it taking care of your grass when we can keep it in tip-top shape all year? Our lawn care in Peters Township includes optional treatments to ensure you get a beautiful yard without the hassle, such as: 
Core Aeration
Pelletized Limestone
Disease Control
Deer Damage Prevention
Image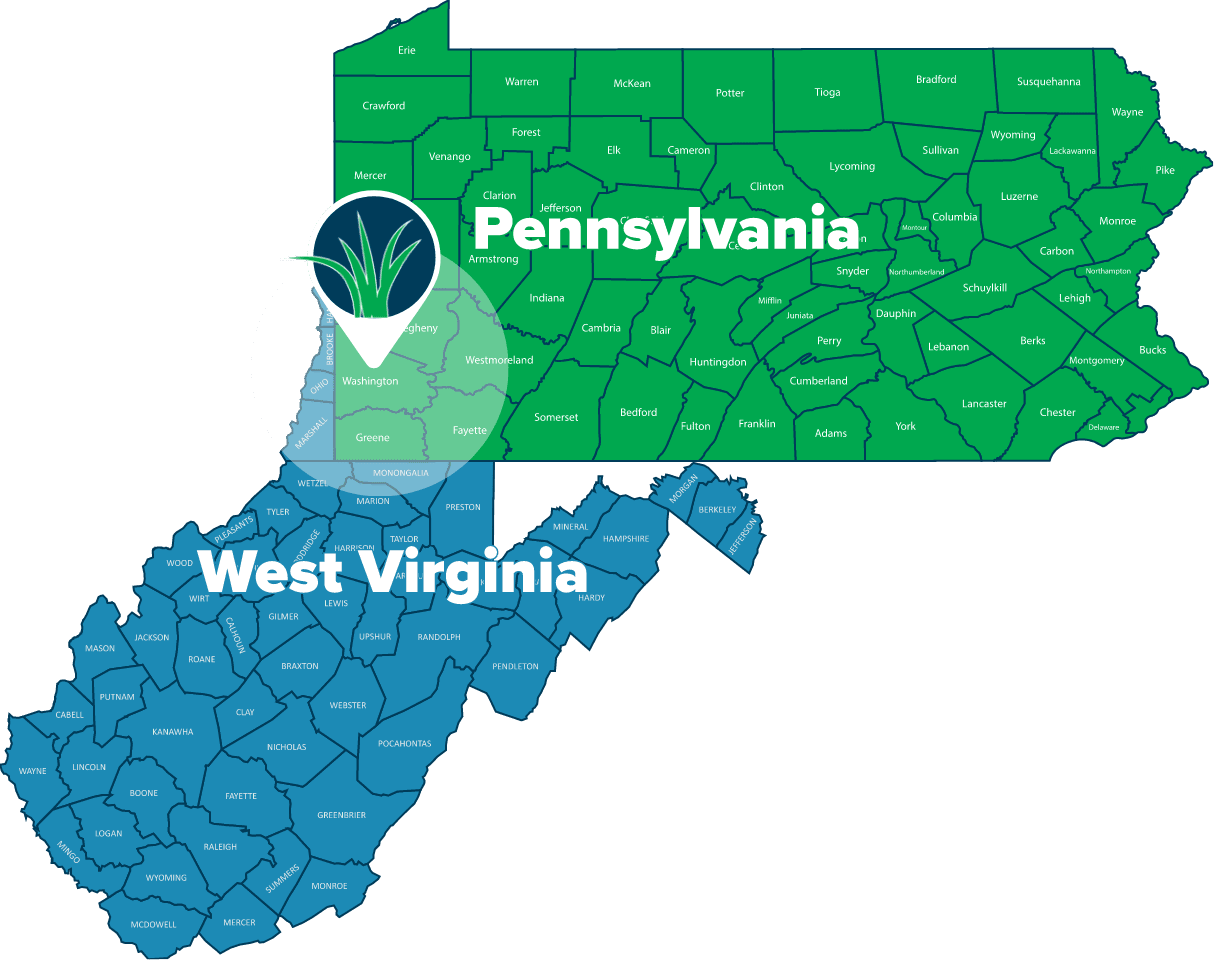 Tree & Shrub Care in Peters Township
The best way to get and maintain consistent results is by being proactive in the fight against insects and diseases. Our preventative measures include treating your trees and shrubs with a slow-release fertilizer and injecting micronutrients into root zones. As part of our 6-step tree and shrub care program in Peters Township, our technicians visit your home every four to six weeks. Our professional treatments combine:
Systemic insect control
Horticultural oil treatments
Integrated pest management
This combination allows for superior root growth and flowering potential. We use systemic insect control as it provides the best protection for your trees and shrubs year-round. This treatment helps them resist the threat of pests from within and provides the basis for our treatment plan.
Keep Ornamentals Healthy
At Custom Turf, we use high-quality products and safe treatment methods to protect your trees and shrubs. Our technicians carefully inspect your ornamentals for signs of insects and disease. We treat each plant individually to ensure its specific needs are addressed. Because your family's safety is important to us, we use products that have very low toxicity to birds, fish, and mammals. That way, you can rest easy when children and pets head outside to play.
Core Aeration in Peters Township
From foot traffic to high temperatures, mowing, and frequent watering, your lawn gets worn down over time. As your turf's soil gets compacted, it can be hard for important nutrients such as sunlight and water to reach your turf's roots, meaning that your grass becomes lifeless and lackluster. Luckily, your friends at Custom Turf offer the core aeration you need to restore your lawn to its former glory!
With our core aeration services, you can expect:
Fixing compacted soil—Aerating your soil heals the damage done by foot traffic and prevents weeds and disease.
Better nutrient absorption—Core aeration can lessen the amount of watering you have to do by making it easier for your lawn to absorb fertilizer, sunlight, and water.
A healthier, thriving lawn—Your grass will be more resistant to drought, pests, and extreme temperatures after aeration.
Perimeter Pest Control in Peters Township
For nearly three decades, we have been dedicated to keeping homes insect-free through perimeter pest control treatments. Our treatments are specially designed to keep pesky pests from getting inside your home. To accomplish this, our expert technicians will create an invisible barrier around your home to keep the bugs outside where they belong. You can rest assured that we will keep your home and family safe from many local insects, including:
Ants
Spiders
Cockroaches
Centipedes
Moles
And more!
Expert Technicians You Can Trust
To keep your home pest-free no matter the season, you have to stay vigilant. When you call in the Custom Turf team to take care of your pest control worries, you can be confident that our expertly trained staff will keep the bugs at bay. We will carefully inspect the exterior of your home for pests and employ the very best perimeter pest control treatments to keep them out.
Mosquito Control in Peters Township
Bug sprays and oils smell awful, and they rarely do much to keep mosquitoes away. Store-bought treatments are often even less effective. Instead of trying to face mosquitoes alone, turn to your friends at Custom Turf to help you get rid of mosquitoes for good! 
When you partner with us for mosquito control in Peters Township, you can expect:
A thorough FREE inspection of your property by one of our experienced mosquito exterminators.
Fast and effective treatment with our eco-friendly and family-and-pet-safe products.
Recurring treatments through the height of mosquito season (June-August).
A mosquito-free yard!
Wave Goodbye To Weeds
Weeds and diseases are no strangers to the Pennsylvania climate. Fortunately, our lawn care services in Peters Township include seasonal weed and outdoor pest control that targets and eliminates these specific issues. At Custom Turf, our services also include custom-blended fertilizer applications at every appointment.
We visit your home every 4-6 weeks to keep your lawn in great condition year-round. In addition, our trained technicians use high-quality products safe for children and pets so you don't have to worry. The products we use on your lawn are similar to what is used on golf courses for vibrant green results even your neighbors will notice. 
Mole Control in Peters Township
After spending large amounts of time and money ensuring that your lawn stays green and healthy, the last thing you want to see is a small, clawed pest destroying it all. With their underground tunneling, moles are capable of causing great damage to an otherwise healthy lawn. If you have started to see mounds or hills of dirt, tunnels or ridges, or other signs of mole activity, it's time to call a professional. Luckily, the experts at Custom Turf are right around the corner and ready to help. Call today for top-quality mole control in Peters Township.
Work With The Experts in Mole Control
Perhaps the most frustrating thing about a mole infestation is that it is next to impossible to get rid of. Because moles remain underground, they are both hard to find and hard to eliminate. If you want to protect your lawn from the destructive impacts of mole infestation, you need the help of a reputable lawn care company like Custom Turf. When you partner with us for mole control, you will work with a local expert and receive the following highly effective services:
A FREE mole inspection to determine the extent of the infestation.
A customized treatment plan to eliminate your mole problem as efficiently as possible.
Organic mole control that protects your lawn AND the environment as well as your family and your pets.
Your Satisfaction is Our #1 Priority
Here at Custom Turf, our main goal is to leave you completely satisfied with our services and with a landscape you can enjoy with the whole family. Our lawn care technicians are passionate about transforming mediocre lawns into the best of the neighborhood. When you count on Custom Turf to handle your lawn care in Peters Township, you can feel confident in knowing you will receive exemplary customer service throughout the entire process.