Lawn Care in Jefferson Hills Township
Here at Custom Turf, we know you're busy. Instead of investing your free time in your yard, put it in our expert hands. With our 6-step treatment program, your landscape gets the treatment necessary for superior root growth, color, and flowering potential! Custom Turf has been providing superior lawn care services in Jefferson Hills Township since 1987. During this time, we have perfected our approach, getting grass thick and green with:
Seasonal weed control
Pest protection
Preventative grub control
Disease resistance
And more!
Effective Treatments Year-Round
We know that the best way to keep your lawn looking its best is prevention. For that reason, our expert lawn technicians take action against the weeds, pests, and diseases that threaten your yard before they become a problem. Every 4-6 weeks, we treat your yard with trusted products that get the job done. Plus, we provide custom-blended fertilizer applications at every visit. You won't believe the results!
Image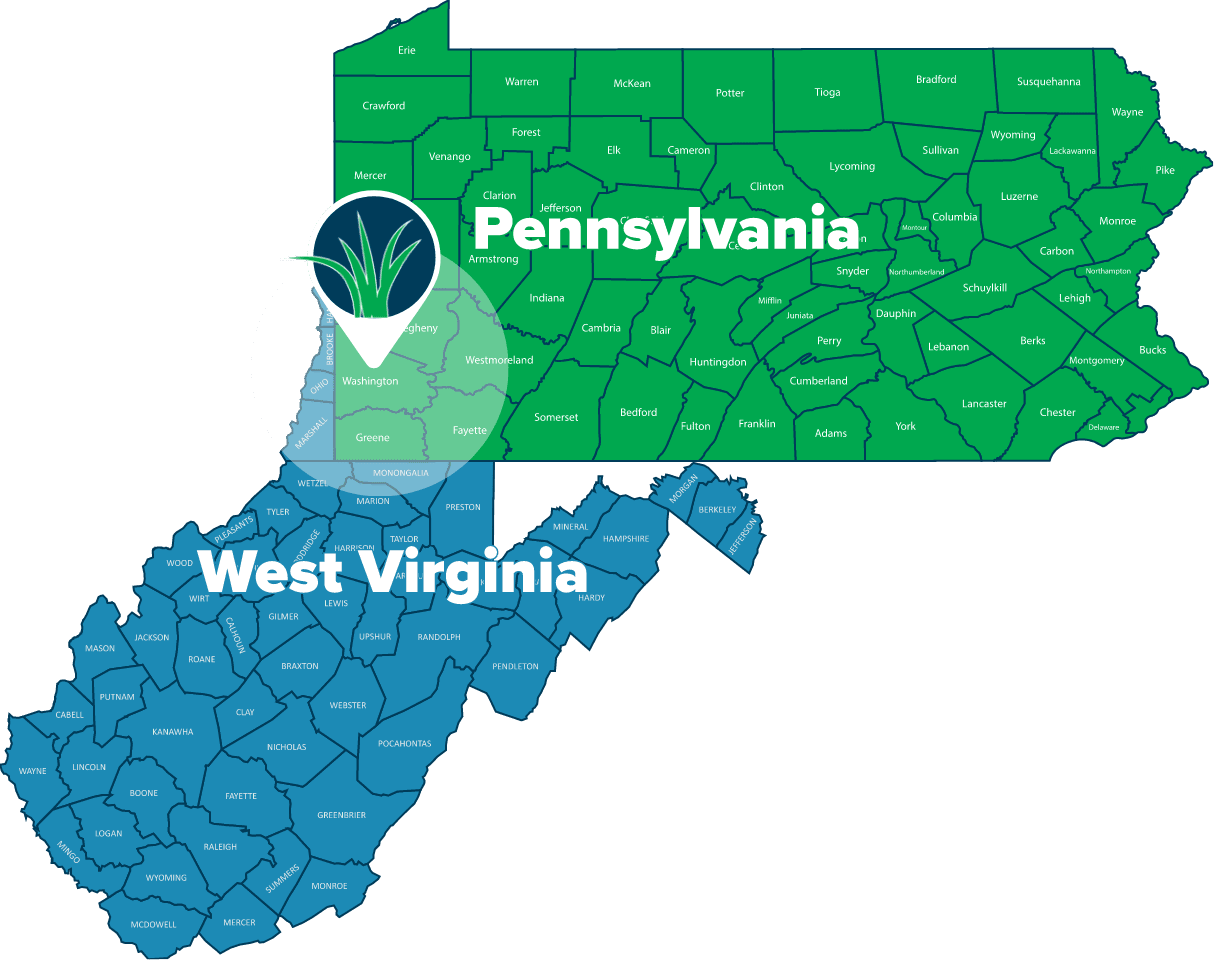 Tree & Shrub Care in Jefferson Hills Township
A well-maintained yard looks spectacular, but Pennsylvania homeowners know that taking care of trees and shrubs in the changing climate can be quite frustrating. Make sure your plants get the attention they need to thrive all year long with our tree and shrub care in Jefferson Hills Township. Our professional technicians will provide the most advanced methods and techniques to get your plants looking their best year-round—and you don't have to do a thing!
We offer the following tree and shrub care services in Jefferson Hills:
Systemic insect control 
Horticultural oil treatments
Slow-release fertilizer treatment
Root zone injections
And more!
Perimeter Pest Control in Jefferson Hills Township
If you're worried about bugs making their way into your home, the professionals at Custom Turf are here to help. Our pest control exterminators in Jefferson Hills Townships have kept homes pest-free for over three decades, and in that time, we have learned exactly how to take care of pest problems in this area. The trick is to create an invisible barrier around your home to keep bugs like ants, spiders, centipedes, moles, and others outside of your home.
Mole Control in Jefferson Hills Township
If you have raised ridges or small mounds of dirt in your yard, you may have a mole problem. Moles burrow deep into the ground, creating tunnels that destroy the root systems of your grass, trees, shrubs, and other plants. They can easily undo all the hard work you've put into your yard, costing you both time and money. If you want to protect your yard, trust Custom Turf. Our mole control in Jefferson Hills will quickly and safely remove moles, preserving your yard.
When you partner with us for mole control in Jefferson Hills Township, we will:
Thoroughly inspect your property to identify signs of moles in your yard.
Evaluate the severity of the mole infestation.
Create a customized treatment plan based on your yard's unique needs.
Strategically use family-friendly treatments to rid your yard of moles.
Restore your lawn to its former glory, keeping it healthy and mole-free.
Mosquito Control in Jefferson Hills Township
Unfortunately, we aren't the only ones who enjoy the warm weather—so do mosquitoes. These bloodsucking pests not only cause red, itchy bites, but they also put you and your loved ones at risk for diseases such as malaria, Lyme disease, and West Nile virus. With our mosquito control in Jefferson Hills mosquitoes will be a thing of the past. Our powerful products and recurring mosquito treatments give you lasting results, letting you safely spend time outside.
When you choose our mosquito control in Jefferson Hills, we will:
Carefully search your property to identify mosquito breeding grounds and hiding places that they are using.
Create a custom mosquito treatment plan based on our findings, ensuring you get the most effective treatment possible.
Target mosquitoes with advanced treatments that offer reliable, long-term relief.
Treat your yard throughout mosquito season, so you're always protected.
One-Time Mosquito Treatment For Special Events
If you're hosting a birthday party, family barbecue, celebrating a graduation, or anything in between and want to keep mosquitoes off the guest list, we've got you covered. In addition to our recurring mosquito control in Jefferson Hills, we also offer a one-time special event treatment that keeps mosquitoes far away from the fun. 
Lawn Aeration in Jefferson Hills Township
Keeping your lawn lush and green year-round requires more than just consistent watering and fertilizing. As temperatures change throughout the year, activity on your lawn adds wear and tear to the turf—this makes your lawn's soil compacted. Compaction makes it difficult for the vital nutrients that make your lawn healthy to penetrate down to the roots, which leads to duller, less healthy grass. Here at Custom Turf, we're proud to offer core aeration in Jefferson Hills Township to help restore your lawn's appearance and vitality. This process involves removing small plugs of soil from your lawn, which allows water and oxygen to reach the root system. When followed by lawn seeding, this process will result in thicker, more drought-resistant grass that will dazzle the neighborhood. 
When you team up with Custom Turf for aeration and seeding in Jefferson Hills Township, you can expect the following:
Core aeration from a lawn care company with over 30 years of experience.
Slit seeding to thicken your grass and promote new growth.
Quality customer service from lawn technicians with a 4.9 Google rating.
The glowing lawn you deserve!
Flea and Tick Control in Jefferson Hills Township
Ticks and fleas represent some of the most disturbing outdoors pests humans encounter. And with the risk of contracting a disease from these insects, it's all the more important to protect your loved ones from fleas and ticks. When it comes to fleas and ticks, DIY doesn't cut it. Your family (furry members included!) is worth protecting. Look to Custom Turf for simple and effective treatments that give you your yard back.
When you choose Custom Turf for tick and flea control in Jefferson Hills, you can count on:
A careful yard inspection by one of our highly trained exterminators.

Targeted lawn treatments that floor tick and flea populations in your yard. 

Recurring treatments for season-long protection.

Special event treatments for that long-awaited gathering.
Sit Back and Enjoy The Results—All Year Long!
Because your family's health and safety is our priority, our expert lawn technicians employ the safest treatment methods when they care for your plants. Plus, at Custom Turf, we only use high-quality products. There's no question—our lawn care in Jefferson Hills Township gives you the landscape you've always wanted year-round. All you have to do is relax and enjoy it!